The Nissan Titan vs the Nissan Titan XD: which is right for your trucking needs?
The Nissan's midsize truck, the Nissan Frontier, is a perfect starter pickup or ideal for the driver who doesn't need to do heavy towing and hauling around Colorado. But if you're ready to take your truck's performance up a notch, It doesn't matter if you're from Denver or Highlands Ranch, stop into Tynan's Nissan Aurora to check out either the full-size Nissan Titan or the heavy-duty Nissan Titan XD.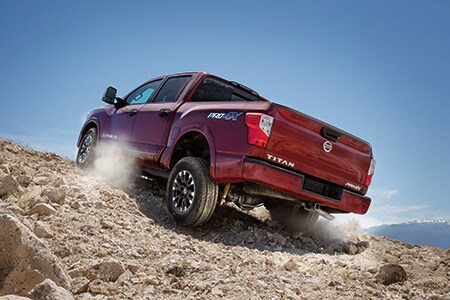 TESTED IN ARIZONA
Nissan Durability Engineers can put 15-20 years of wear and tear on a TITAN in just months. And they do it in one of the most un-truck-friendly places on earth - Nissan Technical Center North America Arizona Testing Center. We complement Arizona with cold-weather testing in frigid zones of Alaska, Colorado, and Michigan's Upper Peninsula.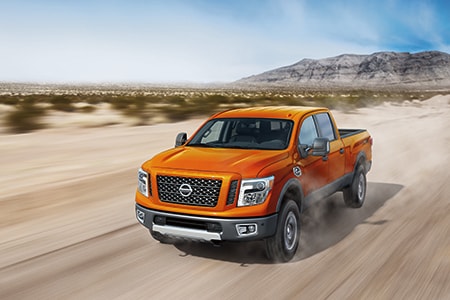 DESIGNED IN CALIFORNIA
TITAN'S bold looks come courtesy of Nissan Design America (NDA) in La Jolla, California. Inspiration came from many places: Industrial equipment. Precision tools. The shield and helmet of a warrior. The result is technological, yet with a raw, animal element. A predator among full-size trucks.
 
ENGINEERED IN MICHIGAN
For over 25 years, Nissan Technical Center North America in Farmington Hills has been the main campus of Nissan's North America R&D. Awesome technical talent combined with brutal testing weather make it an ideal place to engineer the new TITAN.
 
ASSEMBLED IN MISSISSIPPI
At the Nissan Canton Vehicle Assembly plant, state-of the-art facilities roll out some of the best assembled vehicles you'll find anywhere. Since 2003, Canton has been the home of an all-star lineup of extremely tough and capable Nissans.
 
POWERED BY INDIANA AND TENNESSEE TITAN'S
Endurance® V8 gas engine is built at Nissan's world-class Powertrain Assembly Plant in Decherd, Tennessee. TITAN XD's Cummins® Turbo Diesel is built at the Columbus Engine Plant - the center of nearly everything at Cummins for almost 100 years. [*]
What's the same?
Just like with other brands and their full-size versus heavy-duty pickups, the Nissan Titan and the Titan XD have a lot that's similar.
Cabs: both models have the Crew Cab, a King Cab®, and a Single Cab
Trims: both models have 2 trims on the Single Cab and 3 trims on the King Cab®. The Titan has 7 trims on the Crew Cab. The Titan XD's diesel engine also has 7 trims, though the gasoline engine has 6. We think this is close enough!
Amenities: because the models basically have the same trim lineup, you'll find the same features across both models.
What's different?
Dimensions: except for a few inches here and there, the Nissan Titan and Nissan Titan XD have essentially the same dimensions in the King Cab® and Crew Cab configurations. Where you'll notice the biggest differences in sizes are on the Crew Cabs. The Titan has a 139.8-inch wheelbase and the Titan XD has a 151.6-inch wheel base. The Titan's bed is also over 10-inches shorter at 67-inches versus the Titan XD's 78.7-inches. The overall lengths are vastly different as well. The Titan comes in at 228.1-inches and the Titan XD is 243.6-inches.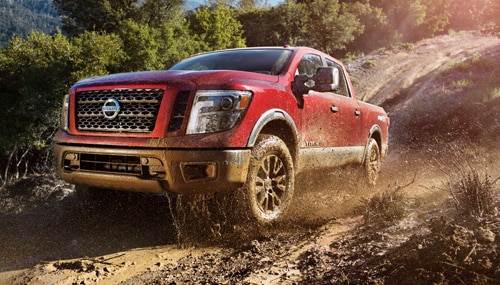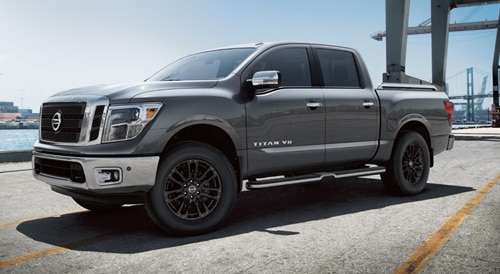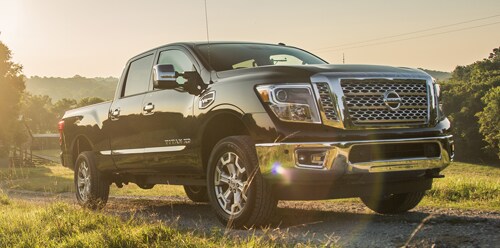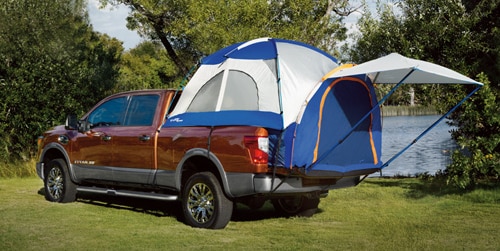 Engines: when shopping for the Nissan Titan you'll have one engine across the trims. They all get a 5.6L V8 with 390 horsepower and 394 lb-ft torque. Here's the max towing numbers based on the cab style. 
Crew Cab: up to 9,380 pounds 
King Cab®: up to 9,450 pounds 
Single Cab: up to 9,660 pounds 
The Titan XD is a heavy-duty truck, so you'll get more power and grunt to get the job done. You also have two engines to choose from instead of one - a 5.6L V8 with 390 horsepower and 394 lb-ft torque or a Cummins Turbo Diesel with 310 horsepower and 555 lb-ft torque! Since the Cummins® engine tends to be the most popular, we'll look at its tow ratings for the three cabs.
Crew Cab: up to 11,960 pounds 
King Cab®: up to 12,480 pounds 
Single Cab: up to 12,710 pounds
Whether you know which Nissan Titan Model you want or if you're still on the fence, we invite you to come into our dealership near Littleton and Centennial, CO this week to get out on a test drive, have us answer any lingering questions, and hopefully send you off with the strong and dependable truck that fits your needs!