Tynan's Quick Quote Tools Help You Save Time When Shopping Online At Tynan's Nissan Aurora
Your time is valuable, and our team at Tynan's Nissan Aurora doesn't want to waste extra moments of your busy schedule. With the focus on customer convenience and improving your general car buying experience, we're proud to present our Tynan's Quick Quote resources! Limit the time you spend in person at the dealership by completing much of the process online.
What Are The Steps and Why Do They Matter?
Assess what our Tynan's Quick Quote plan offers by diving into the respective tools and learning how they help speed up the process overall.  You don't need to use them all, but the more tools you utilize, the faster you'll be able to sign the paperwork and head back to Denver with your new Nissan!
These easy convenient payment options outlined below are available on the vehicle details page once you find the vehicle you're interested in.
1. Personalize Your Payments
Step One - Determine my Monthly Payment
Determine what you can afford to put towards a new Nissan model or pre-owned vehicle through our dealership financing by configuring respective term lengths, APR rates, and leasing lengths. When you combine all these elements under the Tynan's Quick Quote interface you'll easily see the monthly payment plan that best aligns with your budget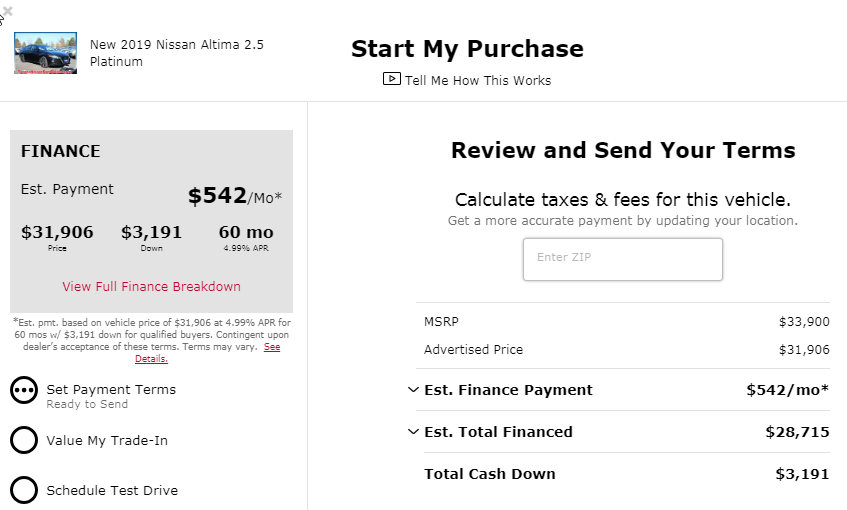 2. Value a Trade?
Step Two - Value my Trade-In
Interested in what the current vehicle you drive around Centennial in is worth and want to get as clear as possible on its current value? The industry leading platform we use - powered by Kelley Blue Book - provides estimations based on the condition, model year, and history of your specific vehicle, generating an offer in just seconds. Add this to your deal and move the Tynan's Quick Quote process forward with seamless ease.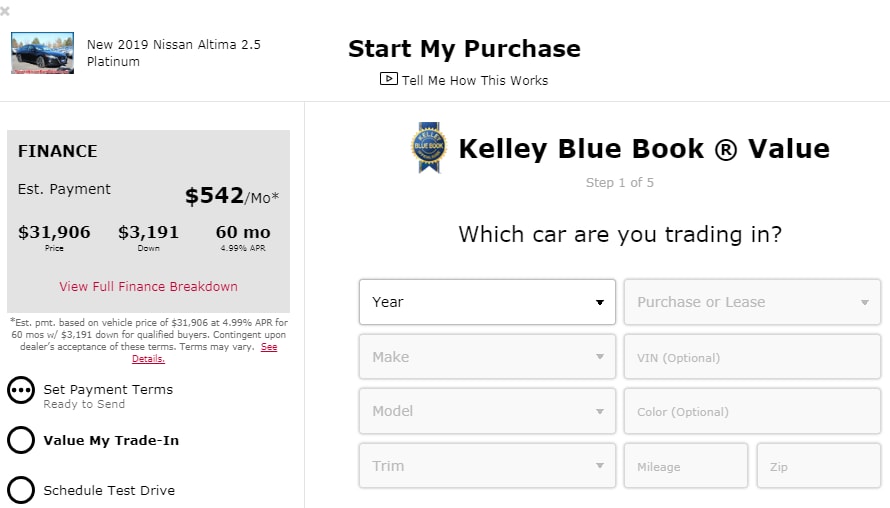 3. Apply For Financing
Step Three - Apply for Financing
Financing applications can take longer to complete at a dealership, adding potential stress and frustration to your experience. Make your auto loan request both smooth and convenient by filling out the paperwork online, on your own time. We'll handle the processing on our end and reach out.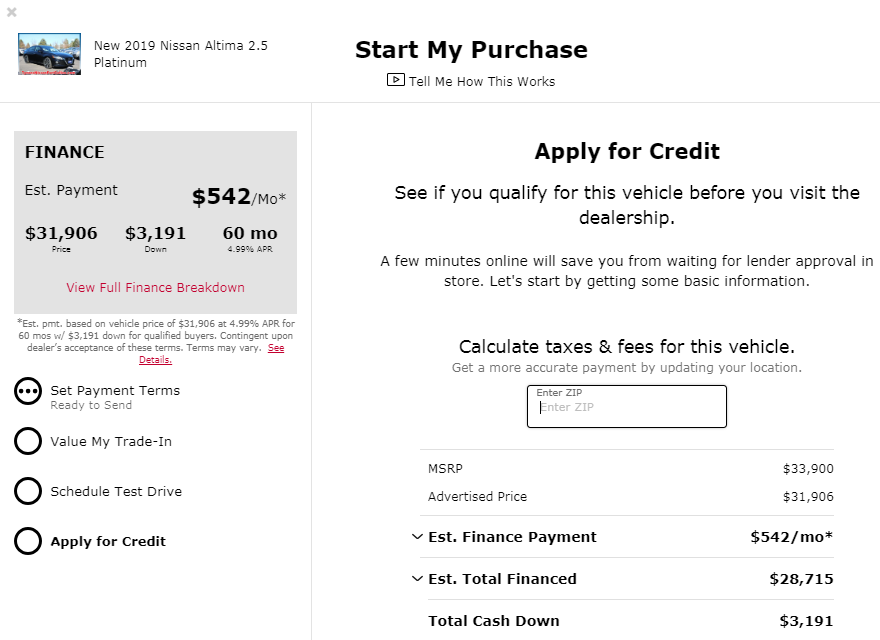 4. Schedule a Test Drive!
Step Four - Schedule a Test Drive
It's time to get a proper feel for that new Nissan sedan, SUV, or truck you have your eye on. Make these arrangements within a matter of seconds by scheduling an appointment based on the times you're available during your hectic week, and we'll have the vehicle prepped and ready to ride once you come in from Highlands Ranch.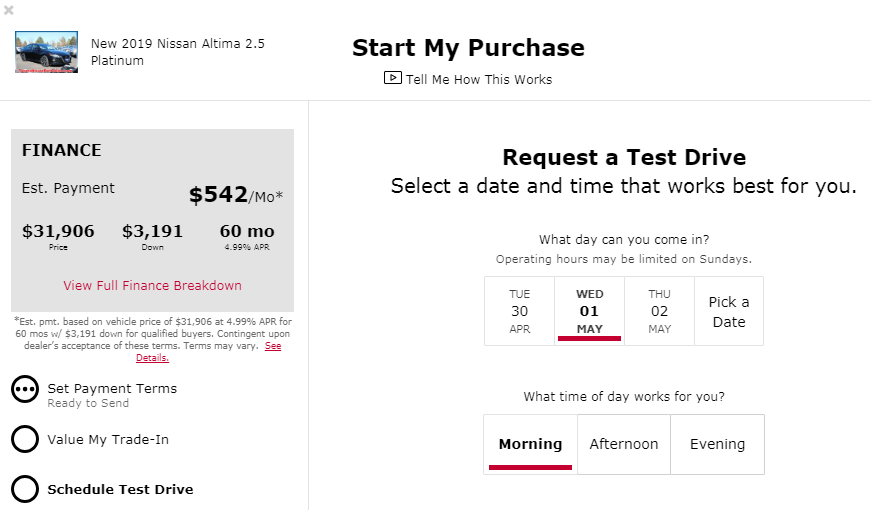 Have Questions? Reach out for Additional Tynan's Quick Quote Specifics
For additional tips on how to speed up the car buying process and effectively utilize these Tynan's Quick Quote resources, don't hesitate to connect with our Aurora, CO, dealership team online, over the phone, or in person today if you have time to make it into the showroom from Littleton, CO!
Hours
Monday

9:00am - 8:00pm

Tuesday

9:00am - 8:00pm

Wednesday

9:00am - 8:00pm

Thursday

9:00am - 8:00pm

Friday

9:00am - 8:00pm

Saturday

9:00am - 8:00pm

Sunday

Closed